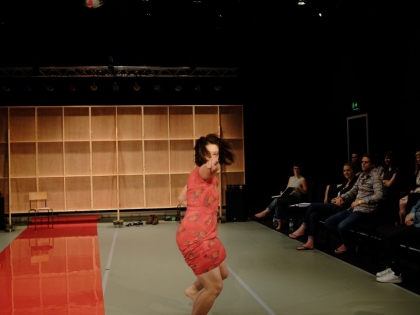 After our try out performances in Manchester i'm again together with Sonia Hughes, Nic Green and James Monaghan to remember all the dances we've ever danced.
For information on Performances in:
Groningen click HERE Noorderzon 25
Dublin click HERE
Which dance steps have you ever performed?
Can you remember every dance you've ever danced? Wallflower is a dance marathon, a game that alters according to the players. Three performers are challenged to remember every dance they've ever danced… Each performance is different, the performers choosing what they want to reveal, what story of themselves they want to tell. Like much of Quarantine's work, Wallflower serves as a form of portraiture – of real lives being lived. Wallflower makes us remember our own dances – the awkward, joyful and forgotten. It asks us to think about how we choose to be involved in the world, and what we sit out on – the dances left un-danced. Quarantine are a unique voice in British theatre – and internationally acclaimed for their experiments with everyday life. Following the success of Entitled, Susan & Darren and The Soldier's Song, Quarantine return to Noorderzon to present the world premiere of Wallflower.
See the Trailer