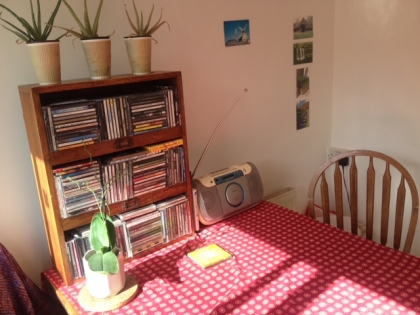 The work is about bringing people together.
I've been calling them gatherings, metaphorical kitchen tables.
I've been in conversation with artists, producers, intelligent creative people from all ends of the artistic spectrum. Arts Council Wales have awarded me the opportunity to Grow.
This project is called Becoming and Belonging.
I've been concentrating on rooting down or creating new roots with people. I'm interested in developing where it is that I live and how we live together and in how we cultivate our environment. I'm trying to give attention and look after what's necessary for people, artists, folk and it feels like gardening.
So with this gift of time and growth – at the moment the study or thinking is something like:
I am an Artist, what does that mean, Becoming – as in growing into myself, valuing my position.
For me, with this award has come a badge of Responsibility, there's something here about the impact of the work, how to communicate.
And Belonging, connecting on a deeper level.
Fresh conversations, root systems, nourishment, this is weird thing to say – creative "friendship", a learning refining the way we communicate, an eye to the future, a knowledge it will take time, patience. A collegue Andy Paget said "If  its not belonging then it's survival". I found that in Arabic belonging means something slightly different, it means to Thrive, it means something that will unfold over time. Frank Bock said "Society is trying to speak in Endings" so I have been trying to enjoy the incompleteness. For me, when we are not trying to fix something or "show, demonstrate or perform" what we think a new avenue of thinking emerges and an opportunity to learn.
——————–
Creative Wales Awards are amongst the most important and well regarded of the Arts Council of Wales' funding programmes.