"In February 2023, fifty people gathered for a two-day performance event…how can I describe the performance…perhaps, between portraiture, protest and something like a prayer. On its simplest level it's about how we reconnect with ourselves, our bodies and each other.
I sense this process is not so much a choreography, but rather, a creative action.
Just a moment,
to be in the moment,
for us to see one another,
to see our difference and practice being in that.
Everyone dances for different reasons, fashions come and go and this particular time has its own difficulties and opportunities. My own study seems to be about finding more moments to be my fullest self, about acceptance, about channeling rage, about taking up space, saying the truth and about returning to a body that has changed. I'm considering how everyone is an artist, how this time needs more experiences that bring us into ourselves and to practice being witnessed in that." Jo Fong
Jo's creative work reflects the need in these times for people to come together. Her artistic practice is an evolving, collaborative approach which puts ideas around belonging or forming community in the forefront.

How Shall We Begin Again? will involves up to 50 paid collaborators/performers. The process and performance explores the creation of the conditions in which people thrive and creates experiences of care, listening, embodiment, unburdening, autonomy and agency.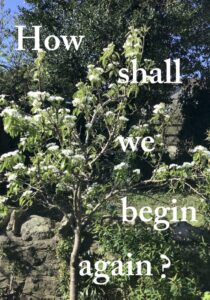 In 2022, Jo was commissioned by NEUROLIVE to lead on the process and performance at Siobhan Davies Studios, she collaborated with  NEUROLIVE directors Matthias Sperling and Guido Orgs. Neurolive is a 5 year Arts/Science project investigating ideas around liveness. The performance went on to be recreated at the Wales Millennium Centre, Cardiff and at Peterborough's Key Theatre with Jumped Up Theatre/Moving Roots (Battersea Arts Centre) in 2023.
Video and photos neurolive.info/Performance-2
The performances are designed so anyone can be involved whether  a professional dancer, someone who would like to dance or someone who would like to embark on a process that is about relating to your own body.
"What I need might be a sensation, connection, vibration, space, higher ceilings, skipping…part of my joy in being alive, or simply being me, is me in my physicality. My dancing is changing every day, the dance has changed, no doubt everyone's dance has." Jo Fong
Audience Response Wales Millennium Centre 2023
"… it was absolutely amazing, I was completely blown away by it. It was beautiful and heartfelt and so authentically human, it felt like stepping into another world built on acceptance. I found it really emotional both because it's been so long since I was last able to dance like that and because it feels like I've been looking for that show my entire life, it made me so happy just to be there. I was able stay for 4 solo performances and one group performance and I loved every second, I would have stayed longer if I could. Thank you so much for recommending it to me."